DETECTING WATER LEAKS
Detecting Water Leaks in your home needs to be done quickly. Think about how many fixtures with flowing water are in your house right now: faucets, toilets, showers, fridge water, dishwashers, hot water tanks etc. Now imagine receiving a notification that there is a small leak in one of those lines. This system tells you exactly where is issue is when there's an issue.
WATER LEAK DETECTION
KEEP YOUR HOME PROTECTED
Keep your home protected with this Water Leak Detection system that will shut off the source to the fixture when it detects a leak. You receive a notification to your phone as to the error, and exactly which fixture has the problem. This system detects as little as 0.015 inches of water and will close your main water line valve.
The most common insurance claims for water damage come from fridge water lines and dishwasher leaks. With this system, not only will you know where the leak is happening but the system will close the main valve saving you time, money and water damage repair costs.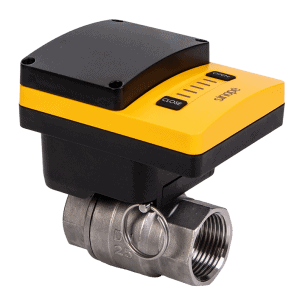 SIMPLIFIED MANAGEMENT
WE HELP YOU AVOID COSTLY CLAIMS
This simplified management system will help avoid costly claims for homeowners and managers. For Condo & Apartment Managers, the thought of a quiet water leak somewhere in your building might keep you up at night.
With this system not only are you notified that there is a problem, it tells you exactly which fixture has the issue. This can save you hundreds of dollars in damage from the water or from exploratory diagnostics.
We supply and install this water leak detection system for fixture you would like to monitor, so you can be at ease when away from home. No matter where you are in the world, you'll be notified* of an issue with any of the fixtures that are being monitored. You can have peace of mind that the problem has been stopped as soon as it was detected.
*Internet connection required
Vision Mechanical is the local supplier for Sedna Water Damage Products in Western Canada. We can supply and install these systems for any fixtures you would like to monitor, so you be at ease when away from home.
Contact us at 778-402-9423 or e-mail info@visionplumbingandheating.com.